Leyder Lopez is one of our CREA students; he is 21 years old now. He has been benefitting from our educational support and programs for more than a decade. Leyder lives in a small rural town in the municipality of Nagarote named El Transito.  He is the youngest of eight children and the only one who had the opportunity to focus on his studies despite all the many constraints that come with living in a rural environment.
Since Leyder was very young, he had the vision and goal to study communications in the United States and become a journalist. His determination and passion led him to research and inquire about educational opportunities with NICA. He started volunteering in different projects to get the necessary funds to study English in Managua, the capital of Nicaragua.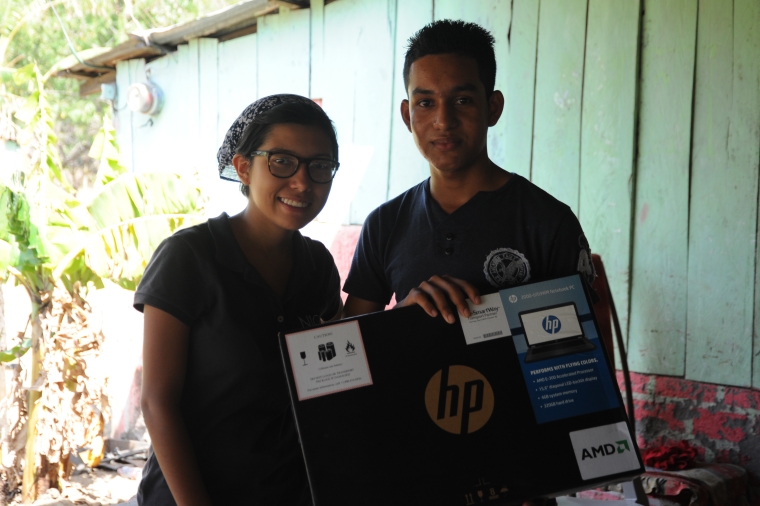 One of the most remarkable projects he worked on was helping adults who were illiterate by teaching them how to read and write through a program called Yo, Si Puedo (Yes, I Can), a government program. He helped more than 30 adults over three years complete the program by tutoring each one by himself. Adults who complete the program earn an equivalent 6th-grade diploma. NICA rewarded his effort by covering the transportation to get to class and part of the English program tuition. Due to his good grades, he received an 80% scholarship from the school.
Leyder was also serving as an assistant of our educational program CREA, where he had the opportunity to help other students who were behind in their studies. Furthermore, CREA gave him the chance to prepare and reinforce subject areas where he needed more practice and preparation. The education level in Nicaragua is considered the second worse in the region, and rural schools have even worse outcomes. Leyder needed a lot of help in math, and he put in the time and work to improve his test scores. That was voluntary on his part, just like studying English was. He truly is very motivated to change his future.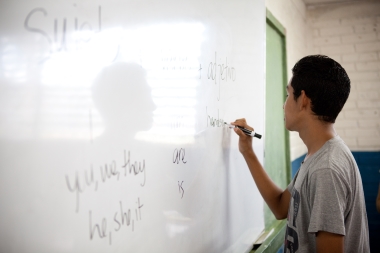 In May of 2015, Leyder applied to a cultural exchange program funded by the U.S. Department of State called CAYA (Central America Youth Ambassadors), and he was accepted from a list of more than 200 applications. He stayed in the United States for three weeks, and he had the opportunity to share his story with many people from other countries and cultures. This trip motivated him more than ever to make his dream a reality. He was determined to study in the US like never before.
In July 2015, Leyder decided to apply to the Walton International Scholarship Program with our encouragement.  More than 200 applicants participated, and he was selected one of five finalists and received a full scholarship to study at John Brown University in Arkansas.
Leyder finished his first year with a 3.8 GPA.  An impressive accomplishment for a kid from rural Nicaragua who learned English as a teenager and received a subpar education compared to his classmates.  His determination and accomplishments are truly impressive.  He is completing his second year.  He was elected to the student government, writes for the University's newspaper, and mentors Freshmen Walton Scholars.  Leyder is a true leader.  We can't wait to see what accomplishments come from his second year.
Leyder has 3 semesters left. He has been elected President of the Student Governement at JBU. He has advocated change and improvements to the menu in the cafeteria. He continues to mentor incoming Walton Freshmen students. Leyder has changed and added another major. This young man is determined to take full advantage of the opportunity to study in the US, making the most of his time there.
His determination and vision, as well as the support he received from NICA and the CREA Program, made his dream possible. Leyder is now in Arkansas, studying the degree he envisioned, and we know that he is going to succeed.